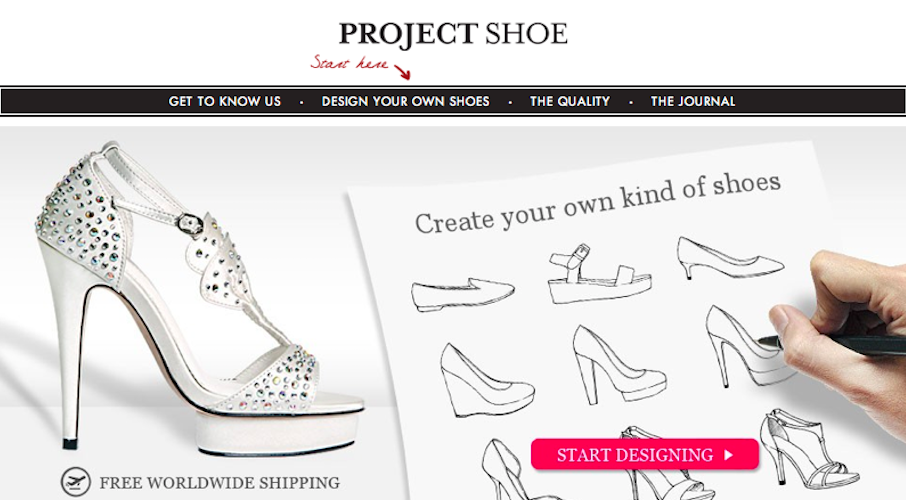 What happens when you combine two powerful elements of e-commerce and beautiful shoes? Win-win. Project Shoe is a fashion-based website, founded in December 2013 and dedicated to fill the gap in every shoe lover's heart. It allows consumers to design their own footwear, whether that may be comfy flats or sky-high heels—with a selection of 12 styles and a variety of materials ranging from genuine leather to Italian pony hair. And don't forget decoration pieces of studs or feathers of choice. The process is then continued with selection of size, in about two to four weeks, the creations will arive at your doorstep. The company is based in the United States and has workshops in China, Vietnam, Indonesia and Korea.  With a precision for superior fit and quality, every pair is crafted with attention to detail and structure. Here, I met with co-founder, Aryo Ariotedjo, to get the inside scoop.
How did the concept of Project Shoe come to life?
My background comes from investment companies and building businesses in Asia. While in Indonesia, I've seen many workshops produce high-end brands, particularly in shoes. I was surprised by how high the markup was. So I thought to experiment and bring that market into e-commerce and expand into the United States. The prices of our shoes range from about $175-$300, depending on the styles and materials, which are imported from Italy and South Korea.
What inspired the launch of the company?
Our holding company, Grupara Inc., which I founded in 2011, is the investor. Every time we create companies, we always give them a name like Project this, Project that. So we used it as a prototype. But after thinking, it fits as the name of the brand. I mean, it's like a project to make your own shoes. We didn't want to name it something too sassy because we want to be safe in case one day we expand into men's and kid's shoes. Our workshop can make those items, but we just want to focus on women's for right now.

Can you tell me about the process of the launch?

The idea came to me in July 2013. I wanted to make sure if I wanted to do this, because at the time, I had been a part in building four companies, including this one. Project Shoe was the most funded; investors liked the concept of the idea. In just a few months, the website launched. It was very quick!

How has your lifestyle transitioned upon moving to New York?
I just moved to Greenwich Village last Monday with my wife and son

—the pace is very fast in New York. Our office is located in Soho. Of course, the first few months of starting a new business is the hardest part, but I've always liked experimenting things. I was an underdog in high school and no one believed in me, but it's nice that I found something and can create things that people enjoy. I moved to New York because I wanted a challenge; I had everything including a house and car in Indonesia. I remember my parents told me, "You will lose a lot of money doing this, but at the end, it will work out." It's also hard to communicate with my team in Indonesia. There is a 12-hour time difference! So realistically, the only window to speak is around the hours of 8pm-11pm, which is the next morning for them.
L
et's talk more about the company's marketing. Any plans in the making?
On the homepage to the website right now, we feature "Fetish Shoes For Your Valentine" and inspiration to design the perfect pair for the holiday. Project Shoe is still very new, and we are looking to be in touch with publicists for media exposure. We currently have social media handles for Project Shoe, and have reached out to students in Parsons The New School for Design in New York City and Central Saint Martins College of Art and Design in London. We had them design their own shoes, and asked for their feedback. We're going to do a campaign in April, where we bring the materials to consumers to show the product in person. There's actually 170 materials available, but only 160 of them are currently available on the website.
What are the future goals for Project Shoe?
We are thinking about expanding on the features of the product. Those with flat feet or wide feet would be able to tailor the shoe according to fit. And eventually, if we raise the next investment, a storefront is a possibility for Project Shoe!