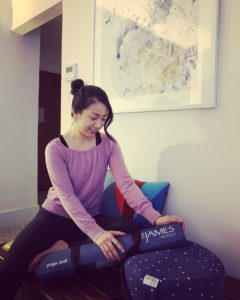 Inhale. Exhale. Sometimes, the smallest things are the ones most overlooked, like taking a moment for a deep breath in the midst of a busy day. That's where the James Hotel's new program, Four Bodies Wellness, comes in. During a preview of the experience last week in the NoMad neighborhood of New York, I had a chance to see how it all works. Basically, it's designed to help balance all four bodies; spiritual, physical, mental and emotional, in pursuit of total well-being.
And it all can be done in the comfort of your hotel room. See, the TVs are programmed with videos led by experts who guide you through various exercises, aiming to cure jet lag and drop down your stress level. Although I wasn't traveling very far from home, this is especially great if you've just hopped off a flight and are in need of a little TLC!
During my stay, the four experts were actually there in real life to explain how each part of the program works. First up on the itinerary was…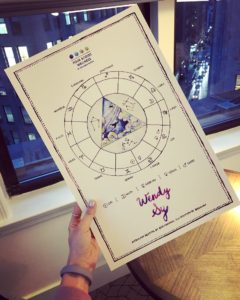 SPIRITUAL
A Kundalini yoga class with Guru Jagat. Ok, I've tried this type of practice before, but it's been a few years since and I barely remembered anything about it except for the fact that we did a lot of "breath of fire", a rapid, continuous form of breathing. We did this along with some chanting and a series of yoga poses. What I love about Kundalini yoga is that it's pretty easy to catch on! Anyone can learn it, regardless of age, weight or flexibility. And the benefits are abundant—it can boost mood, speed up metabolism, reduce stress and increase creativity. In addition to the in-room TV sesh, the program also offers access to Jagat's yoga studio, RA MA Institute in the Lower East Side.
PHYSICAL
The next morning, I woke up for a 7:30 am workout with Michael Olajide Jr., Aerospace co-founder and former middleweight champion boxer. Let me just say, this was pretty intense and I didn't know what I was getting myself into—but in a good way! Challenging yourself is the only way to get better at something, right? It was focused mainly on upper body strength and we used resistance bands throughout (if you're doing the workout in-room, these are available on-demand). We threw boxing punches, did sit-ups and squats. Michael calls the workouts "aggressive meditation" as the goal is to move with purpose and engage the mind through concentration. If you prefer to venture outside your room, you can also take a trip over to the Aerospace studio in Chelsea.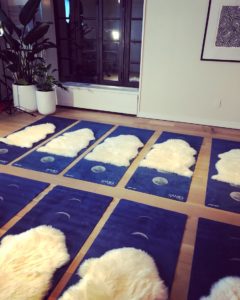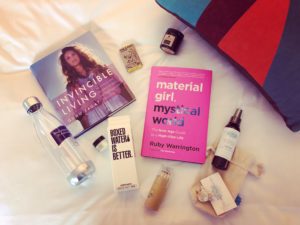 MENTAL
Right after the workout, I had a (much needed!) cooldown meditation with Inscape. The concept of the guided meditation experience is the brainchild of Khajak Keledjian, the founder and former CEO of the fashion company, Intermix. During the 15-minute practice in a colorful, dimly-lit room, I sat on a dark blue, star-printed cushion and put on a comfy pair of headphones. A calming voice with an Australian accent guided me to focus on each breath and nothing else. The thing is, meditation has never come easily to me as it's hard to drown out the other million thoughts floating around in my mind. I'm still working on it and can't wait to keep using Inscape via the app that comes with the program. Like the other exercises, Inscape is also accessible in-person—there's a studio with an awesome, spacious dome in the Flatiron area.
EMOTIONAL
For a unique twist on the classic room service selections you so often see in a hotel, the James offers one-on-one appointments with intuitive counselors. Experts are on-call for a birth chart readings, transformational coaching, tarot readings, hypnosis, Reiki healing and sound healing. It's all curated by Ruby Warrington of The Numinous, a cosmic guide to high vibe life. I had a birth chart reading by Bess Matassa and am still amazed by how the time, date and location of your first birthday can reveal what's aligned for you in the future.
New York can actually be pretty peaceful. Who knew? The Four Bodies Wellness program is also offered at the James Hotel Soho and Chicago locations. Travelers near and far, be prepared to zen out.