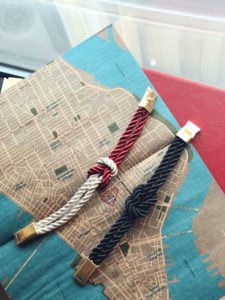 Eight years ago, I took a macroeconomics class. As a sophomore at FIT, I was majoring in communications and this was a liberal arts requirement that I wasn't all too thrilled about. Looking back, something good did come out of waking up at every Thursday morning to learn about interest rates via diagrams on a chalkboard. There, I met my best friend. Brittany's seat was next to mine and we soon bonded over jewelry when it randomly came up in conversation.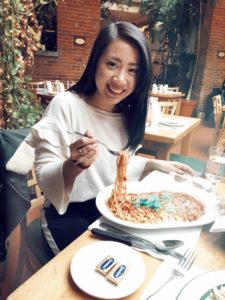 The other day, we went to lunch at IL Cortile in Little Italy. The neighborhood was actually so fitting for the Leo Mazzotti bracelets that we were wearing. The accessories brand was founded by Mikael Schaub and Bryan Schaub, two brothers who traveled all over Italy and became immersed in the fashion and culture of the country. Taking that inspiration, they created Leo Mazzotti from their offices in Geneva, Switzerland. The mission to make each wearer of their bracelets and watches welcome as part of their family, just like that warm, cozy feeling around a traditional dining table in Italy.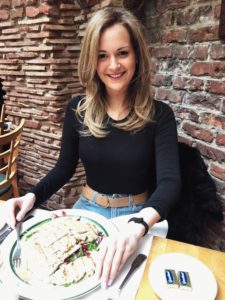 Brittany's bracelet, the 'Roma' in black, is made with a rope material featuring a weaver's knot in the middle and a gold clasp. Mine, the 'Firenze' is the same style in the colors of red and off-white. To me, the bracelets are kind of nostalgic—it's like an updated take on those split-heart childhood friendship necklaces that spell out BFF when put together. The older I get, the more I appreciate how important my small but close circle of friends are—and I mean real friends, the ones that you can call at 2 am in the morning if something exciting or tragic happened and you know they'll be there and vice versa.
Throughout the years of our confusing 20s, we've been through so much together, from homework, heartbreaks to the struggle of finding an apartment in New York. If one thing's for sure, it's that I'm grateful to have my best friend who just gets it. So, thanks to that macroeconomics class. The ratio of people out there in the world to a true friend I consider family is a billion to one.
For more on Leo Mazzotti, check out the collection here and save ten percent with the code "stylemeetsstory"!