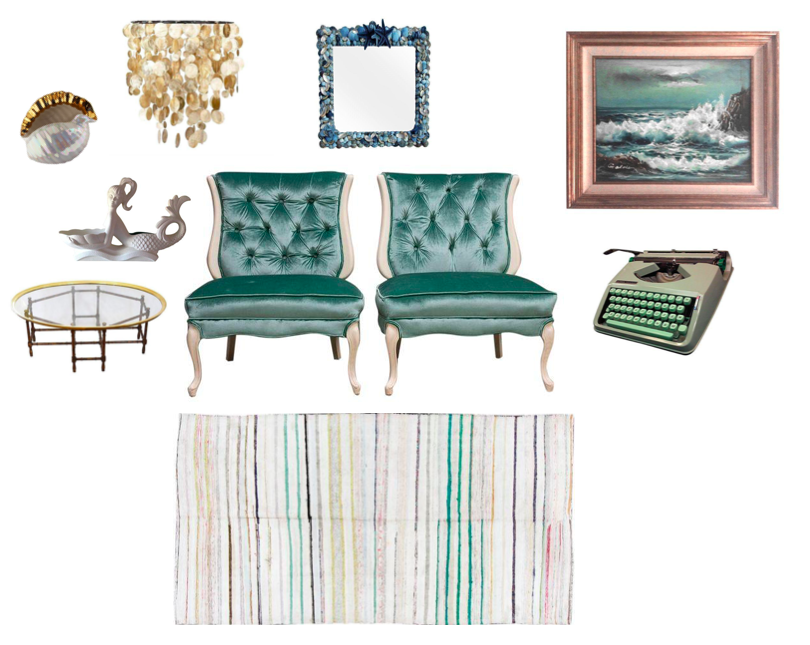 When it comes to home decor, your choice of wall art, lamps, rugs, and chairs, can say a lot about your personality. Although I admit I don't have quite as much space to fit everything I dream about, (

ahem, walk-in closet), I'm free to create rooms of any size and style, virtually, that is. So when Chairish—an exclusive online marketplace for vintage furniture—reached out on behalf of their White to Bright Style Challenge, I was thrilled. Basically, the challenge is to create a mood board (insert heart emoji here) 

of a room solely based on one piece of furniture: an accent chair.
Taking a look through the site's selection of accent chairs, there are so many unique styles, from Art Deco, to Mid-Century Modern, Shabby Chic, and plenty more in between. It wasn't exactly an easy choice, but when I came across a seafoam-colored tufted one, I was drawn to its stunning color. It reminded me of the ocean, and so, that was the main inspiration of the room.
For the decor, the color scheme is more of an understated beauty with a splash of neutral and cool tones including turquoise, blues, and beiges. I added a bunch of shell accessories, such as a mirror and hanging pendant, wall art with an ocean backdrop, a typewriter from 1968, and a decorative mermaid bowl, to my visionary living room. So there you have it
—
I wouldn't mind having all these awesome pieces for real. Check out all of Chairish's selection of accent chairs
here
!